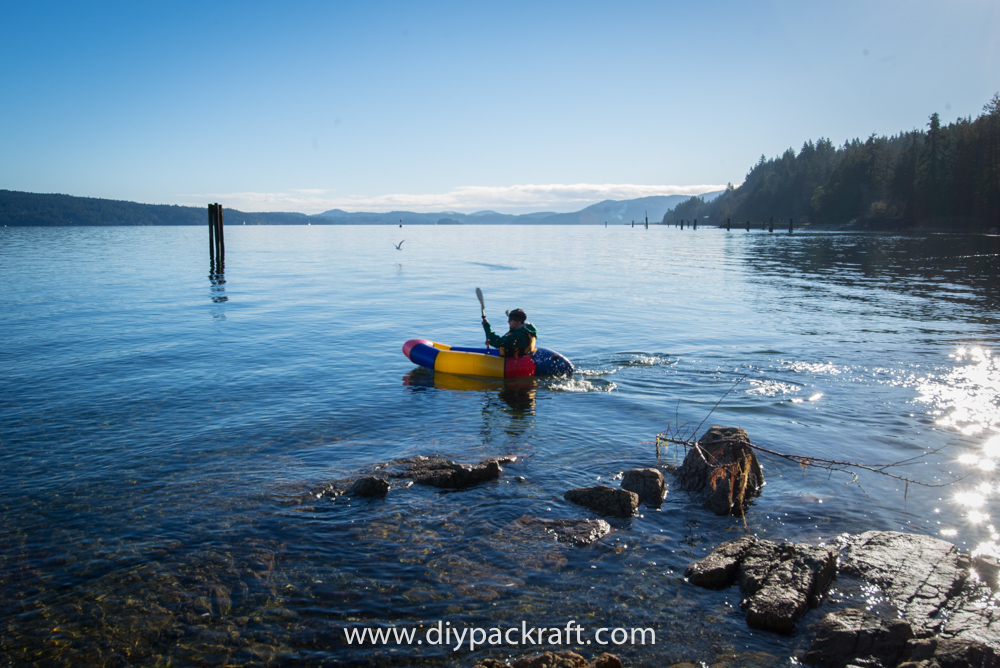 The DIY Packraft Kit, Ultralight DIY Packraft Kit, and DIY Packraft Plans are all available in three different sizes: Small, Medium, and Large.
The difference in buoyancy between the Small, Medium, and Large sizes is minor* – each size is capable of safely carrying over 150 kg or 300 lbs – so unless you want to absolutely maximize your cargo-carrying ability, choose the size that will fit your body best.
For the best compromise between packraft weight and comfort, you will want your packraft to fit snugly when your legs are straight.
To determine which size DIY Packraft will fit you best:
Grab a tape measure or a ruler and don the footwear you will likely wear when paddling.
Sit down on the floor with your back pressed flat against a wall and your legs straight out in front of you.
Measure the distance from the wall to the bottom of your feet.
Compare the measured length to the DIY Packraft cockpit lengths: Small: 110 cm (43″); Medium: 120 cm (47″); Large: 130 cm (51″)
Choose the smallest size that will allow you to sit comfortably in the cockpit with your legs straight. You may want to allow for a few extra cm/inches if you plan to make a seat with a backrest (plans/kits coming soon).
Note that a Large DIY Packraft will be approximately 10% heavier than the Small size, so if packed weight is more important to you than comfort, choose the Small size regardless of your leg length.
*The difference in tube volume between the sizes is approximately 11 litres.