Things have been pretty quiet on the blog lately, and that's because aside from working at my "real" job I have been working feverishly to finish a new generation of packraft plans, featuring improvements based on my experience constructing and paddling packrafts made from the previously available plans. These new designs will also be offered as kits with pre-cut fabric.
So what's different in the new plans? Let's take a look.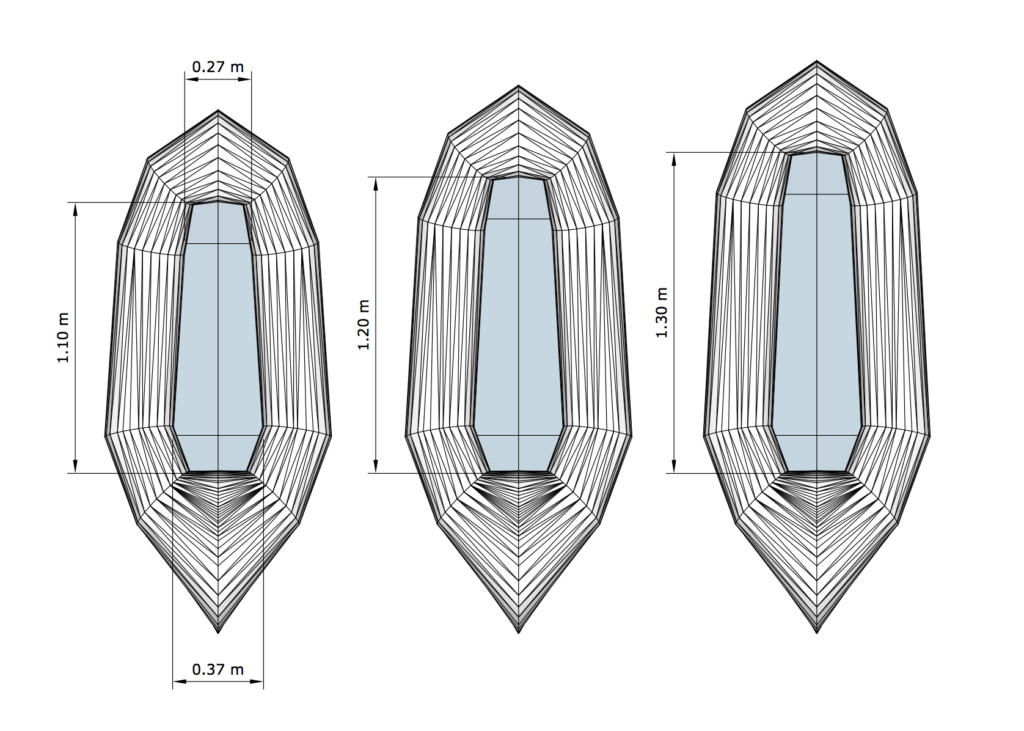 First, the most obvious change is the addition of a "Medium" size, with an internal length halfway between the previously available Regular (Small) and Large plans.
The second difference is an improved cockpit shape. This shape is consistent between the sizes, with only the length varying.
The third difference is a slightly reduced tube diameter – 27.5 cm (11″) instead of 30 cm (12″). In my experience, the 12″ tubes are overkill, even with two people crammed in a Small, and the slight reduction in size will provide better paddle clearance and lighter weight while having a negligible effect on buoyancy.
Other things, like the bow and stern rocker (upturn) have not changed.
I will continue to offer the original plans to those who request them, but from now on I will ship the new plans by default (they are marked "V2" for "version 2").
To minimize shipping costs by reducing paper weight, the new plans are laid out differently than what you will see in my construction videos up to this point. I will post a video and an article about the changes, and I will be posting a new video series detailing construction of a packraft based on the new plans.