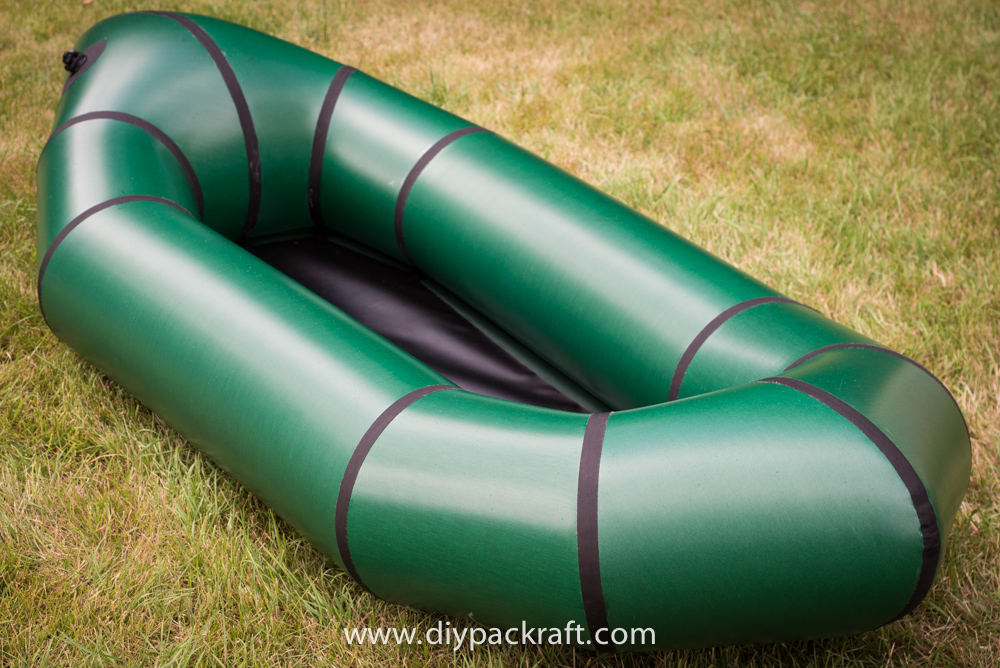 Kit Checklist
Note: Do not use a blade to open your kit, as you may damage the fabric.
Before beginning construction, identify the parts of your kit and place the pieces someplace where they won't get lost. Please unpack your kit carefully, as small pieces (like valves) can be overlooked when wrapped in fabric and/or packing materials. Each kit includes:
Ten tube pieces, numbered 1-5, L & R (Left and Right), with the forward direction indicated by an arrow
One Boston valve (black)
One small valve for the seat (clear and black)
One top-up valve (black valve stem and black+white twist valve)
One floor piece (420D or 1000D, black)
Six seam strips (black), each ~2 m long
Seat fabric, including top/bottom and three rectangular baffles
Inflation bag fabric (lightweight 40D fabric)
Inflation bag adapter tube (black, approximately 5 cm/2″ long)
Inflation bag 1000D fabric, approximately 10cm/4″ square (or a larger scrap of 1000D fabric)
Scrap tube fabric
Scrap floor fabric
Airtight zipper + lubrication, if ordered
Getting Started

Before starting on your packraft, take a few minutes to adjust your iron to the correct temperature and practice proper heat sealing technique. You may also want to build confidence by constructing your inflation bag and seat first.
You may also wish to modify your heat sealing iron to make it easier to use.
V3 DIY Packraft Kit Instructions
Note: Due to plagiarism, access to the following pages is limited to those who have purchased a V3 kit or plans. The techniques are similar to those used in the V2 DIY Packraft instructions, which anyone can view, but the packraft design and assembly methods are improved. 
Your password for these pages is included in the letter packed with your kit (it is not the same as your Forum password).
Here is an overview video showing most steps of the construction process:
Step 1 – Separating Pre-Cut Pieces from Scrap Fabric
Step 2 – Drawing Alignment Marks on the Floor
Step 2.1 – Installing an Airtight Zipper (optional)
Step 3.1 – Joining Tube Piece #3 to Floor (Part 1)
Step 3.2 – Joining Tube Piece #3 to Floor (Part 2)
Step 4.1 – Adding Adjacent Tube Pieces (Part 1)
Step 4.2 – Adding Adjacent Tube Pieces (Part 2)
Step 4.3 – Adding Adjacent Tube Pieces (Part 3)
Step 5 – Installing the Inflation Valve
Step 7 – Locate & Seal Any Leaks
Step 8 – Top-Up Valve Placement & Installation
Questions? Leave a comment below!