Note: Click here for instructions for the newer V3 kits!
Step 0 – Trace Plans & Cut Fabric (skip for kits)
Step 0.5 – Practice Heat-Sealing
Step 1 – Joining Tube Pieces to Floor
Step 2 – Joining Tube Pieces Together
Step 3 – Join Completed Tubes to Floor
Step 4 – Double-Layer Floor or Joint Reinforcement
Overview:
In these instruction pages, I show in detail how I put together this packraft from a DIY Packraft Kit: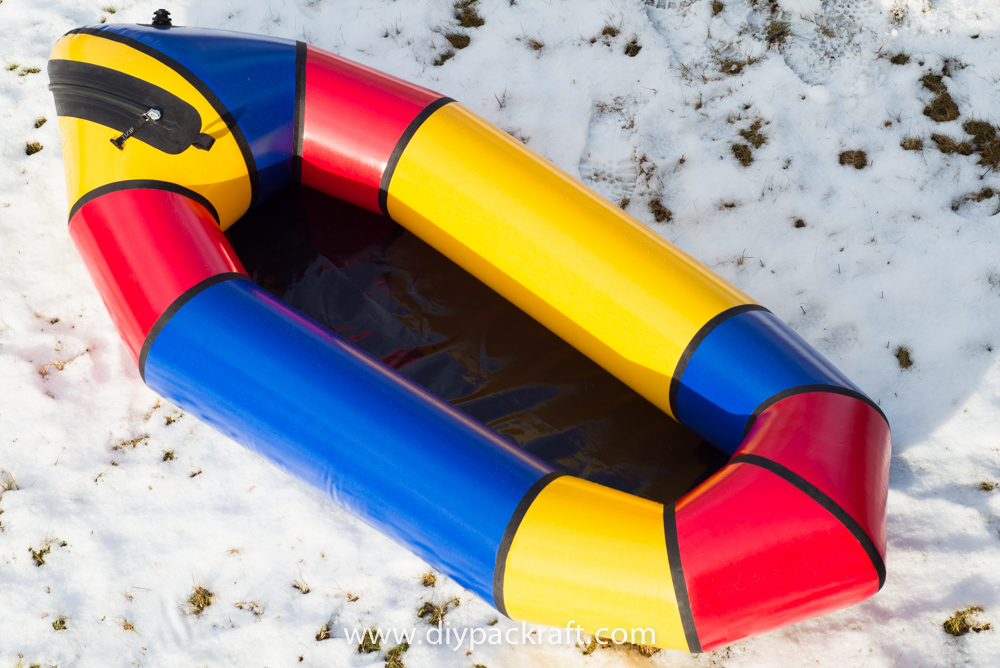 In the video below, I use a paper model to show how the pieces of a DIY Packraft kit fit together to make a packraft:
If you have ordered plans and raw fabric (as opposed to a kit), you'll start by cutting out the paper shapes on the plans and tracing them out on your fabric. There are six shapes – the floor and five tube sections, and you'll be tracing the tube sections twice – once for the left side of your packraft, and once for the right. After the pieces are cut out, you'll start heat-sealing them together.
The tubing sections on the kits and plans are numbered 1 through 5 to correspond with labels on the floor piece, so you'll know how they fit together.
Before you begin bonding things together, lay out the Floor with the TPU (shiny) side up and then lay out the ten side pieces TPU side down in their appropriate positions, to make sure you've got them all and you know how they fit together (this is where the "Left", "Front", and number labels come in handy on the plans/kit pieces). The array will look like this: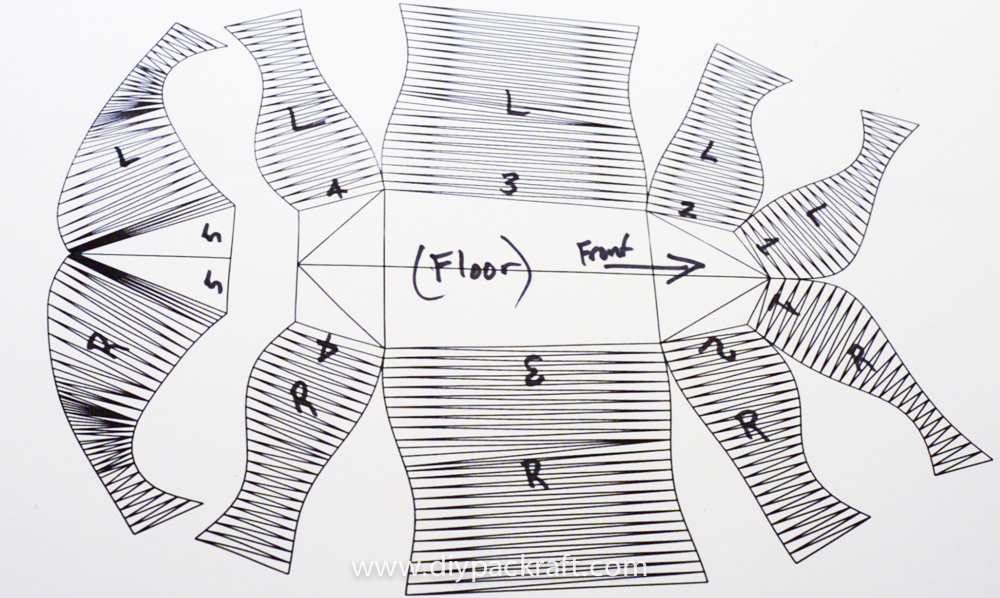 As you work through the instructions in the links above, you'll bond each tube piece to the floor and to each other to create a segmented airtight ring around the floor of your packraft.
After installing an inflation valve, you'll be able to inflate your packraft and go on amazing packrafting trips!