This design is based on tie-downs I've seen on other inflatable boats, such as these ones:
Here, I'm going to make a simple loop tie-down that which weighs only about 5 grams when made from 210D fabric. If you want, you can add a D-ring to the loop for better abrasion resistance, or you can modify what I'm doing here to make handles or more elaborate fittings to hold skis, bicycles, fishing rods, scientific instruments, or whatever you want to carry in your packraft.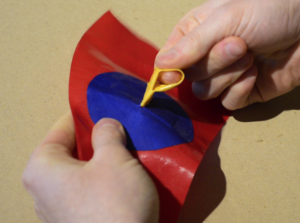 Start by marking and cutting a circle of fabric at least 8 cm, or 3.25" wide. Use the same type of fabric you're using for your packraft's tubes.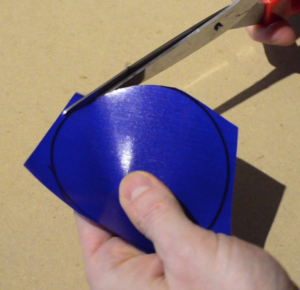 Fold the circle in half twice to find its center, mark it with a pen, and then cut a narrow slot in the center 25 mm, or 1" wide.
For the loop part of the tie-down, you want a long rectangle of fabric with TPU on both sides. Because the fabric has TPU on only one side, you have to decide whether you want to fold it in half and glue it, or heat-seal it into a tube. If you want to glue it, cut a rectangle of fabric 5 cm wide and about 18 cm long, apply glue to the non-TPU side, fold it in half, and place a weight on top until the glue cures.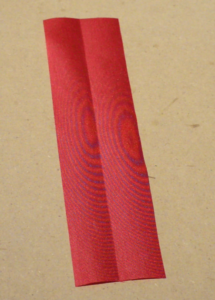 If you prefer to heat-seal it into a tube, cut the rectangle 6 cm wide. Fold it in half so the TPU is on the inside and heat seal a few mm along the open edge, making it into a tube.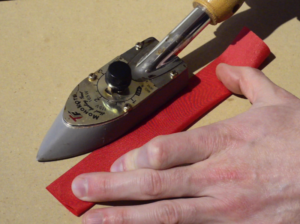 Because you want the TPU on the outside but it's now on the inside, you'll have to turn the tube inside out. The trick to doing this is to insert something like a pen into the tube and then squeeze and slide it at the same time, so it rolls inside out. (Watch the video to see what I mean.)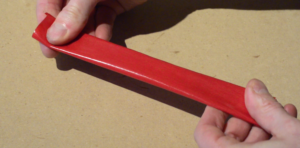 Now you can flatten it out, fold it in half, slide it through the slot in the circular piece, and adjust the length to suit your needs.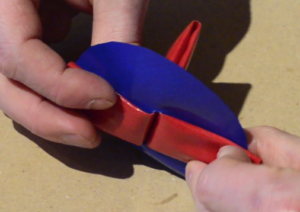 You'll want the parts under the circular patch to extend about half or two-thirds of the way from the slot to the edge of the circle.
At this point, you can reinforce the loop by heat-sealing a ring of fabric around it at the base, like this: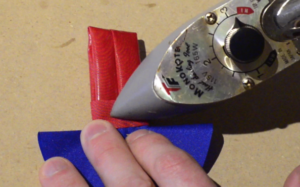 Now it's time to position the tie-down patch on your packraft's tube. Here I'm just attaching it to a scrap of fabric for the demonstration, but normally I would orient the patch so that any sideways force that will be applied when it's in use is likely to be along its strongest axis. (It's very strong in both directions though.)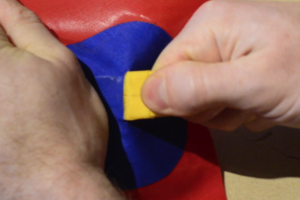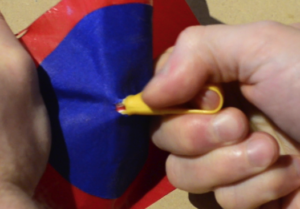 If you're attaching the tie-down before your tubes are all sealed up, or if you have access to the inside of your tubes through an airtight zipper, you can heat seal it from the inside as well as the outside to get a better bond under the ends of the loop. If you can't access this area, you should add some glue there, because it won't heat-seal very well from the outside.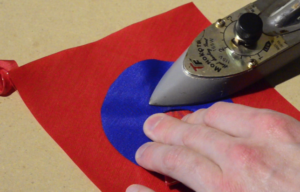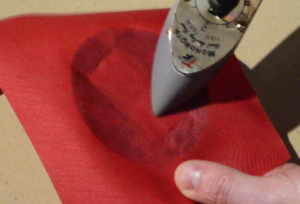 Once the patch is sealed properly, it will be very strong. Even though I did a sloppy job of sealing this one for the demo, I can pull on it as hard as I can and it will not rip or peel.
Keep in mind that you don't want your tie-downs to be so strong that they'll tear your packraft apart before failing – I'd rather have a broken tie-down than a packraft with a gaping hole in it.