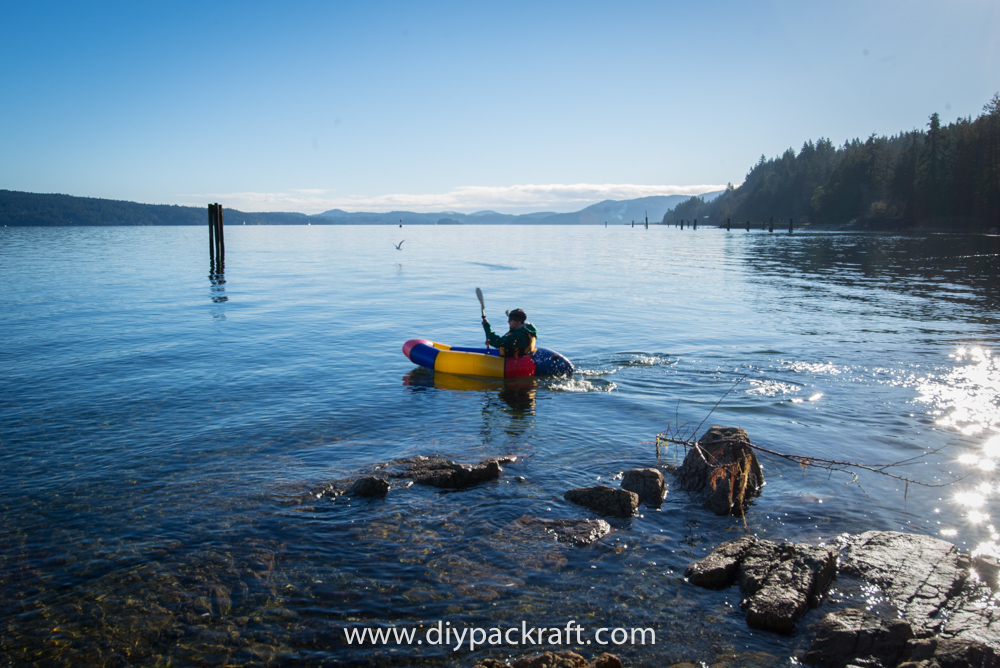 Find Your Fit
For paddling comfort, I recommend you choose a packraft size that is slightly longer than the distance between your back and the bottom of your feet when you sit with your legs stretched out in front of you. To find this length, sit with your back against a wall and use a tape measure to check the distance between the wall and the bottom of your feet. Then add approximately 10 cm (4 inches) to allow for the thickness of your footwear, a back rest, and some wiggle room. Then use that number to pick from the packraft sizes below.
Let's look at me as an example: I have a 30″ (76 cm) inseam, and when I sit with my back against a wall and my legs straight, the distance from the wall to the bottom of my feet is about 107 cm, or 42 inches (without shoes on). The 120 cm/47 inch V3 DIY Packraft fits me well. I can straighten my legs in the 110 cm size, but it feels a bit tight.
If light weight is more important to you than comfort, choose the smallest packraft; if you want to carry a large amount of gear, consider choosing a larger packraft (see the product pages for packraft weights and recommended cargo capacities).
The V3 DIY Packrafts are available in four different sizes, with the following internal lengths:
110 cm / 43 inches
120 cm / 47 inches
130 cm / 51 inches
140 cm / 55 inches
The Voyageur DIY Packraft has an internal length of 160 cm / 63 inches and its design allows for the length to be increased relatively easily. Its capacity is well over 230 kg (500 pounds) and it's best suited for two people or one person and a very large amount of gear.
The older V2 DIY Packrafts, including the Ultralight DIY Packraft kits, have internal lengths of:
Small – 110 cm / 43 inches
Medium – 120 cm / 47 inches
Large – 130 cm / 51 inches
The V1 DIY Packrafts (discontinued) were available in Regular and Large sizes with internal lengths of:
Regular – 110 cm / 43 inches
Large – 130 cm / 51 inches