A heat-sealing iron is the only specialized tool you'll need to make a DIY Packraft.
A model airplane covering iron like the Coverite Black Baron pictured below can be purchased for around $20-$30 USD. Read my review of this model here.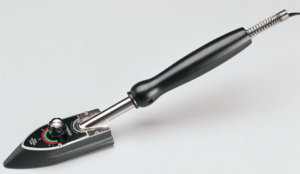 The Clover Mini Iron II, pictured below, can be bought online for about $25 (I've seen it as low as $15), and the North American version has worked well for me (though some people have had problems with theirs, especially overseas where electrical grids are different). You can read my review here and learn about proper heat-sealing technique here.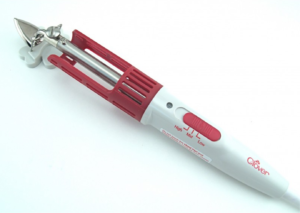 If you want to go the DIY route, you can make your own heat-sealing iron by modifying an adjustable-temperature soldering iron (see pictures and instructions here). Honestly though, it's easier to spend a few dollars on something like the Clover Mini Iron II, and if I had known about the Clover beforehand, I wouldn't have bothered making a DIY iron.
I have tried several other heat-sealing devices. The tools I have used that work for me are:
Clover Mini Iron II
Coverite Black Baron Heat Sealing Iron
Adjustable-temperature soldering iron with modified tip (i.e. DIY heat-sealing iron)
The tools that I have tried that do not work are:
Century 21 Trim Sealing Iron (not hot enough for sealing TPU)
Dritz Petite Press mini iron – mine wasn't hot enough, but other people have had better luck with this iron
Top Flite Sealing Iron (works, but has a design flaw that makes it difficult to use)
Regular household clothes iron (hot enough, but too big for most applications)
1500 Watt hot air gun – seals the fabric well, but it's very difficult to direct the heat to a small area, so adjacent areas get melted too
Other things you'll want to have on hand:
Scissors
Felt-tipped pens (permanent and non-permanent)
Parchment paper (a.k.a. "baking paper" – silicone coated paper used as a non-stick surface for baking, available in your local grocery store)
Ceramic or wooden bowl without a sharp lip around the bottom, for sealing curved seams
Paperweight-type items, such as books, to keep you fabric from sliding around
A clean rag for pressing on the seams as they cool
A fairly large work surface in an area with good lighting. You don't need a workshop or garage – I built my first three prototypes on my dining room table while living in a small condominium
Pieces of wood, cardboard, or some other smooth, flat, heat-resistant material to protect your teak dining room table from burns…
You should probably wear some kind of heat-resistant glove on the hand you use to hold the fabric (I have burned myself several times because I don't always follow my own advice)