Note: click here to learn about proper heat-sealing technique.
Note: This is a review of the North American 40 Watt version. The 25 Watt version sold elsewhere may not work as described (see comment below).

The Quick and Easy Way to Start Heat Sealing

I bought this "Clover Mini Iron II" on Amazon for about $25 USD and it's the first commercially available iron I've found that works well for heat sealing with no modifications. It arrived today, I plugged it in, waited for it to heat up, and I started heat sealing with no problems.
The Clover Mini Iron II has some nice features, like a fairly long cord with an on-off switch, three temperature settings (high, medium, and low), a little green light to show you when it's turned on, and a guard around the heating element so you're less likely to burn yourself or unintentionally melt your fabric. You can even buy smaller or larger tips for it, depending on what you want to use it for. The standard tip is about 22 mm (7/8") wide, which is a pretty good size for making packrafts. The narrower tip, which looks to be about 1 cm wide, would be useful in some spots, and I may get one eventually.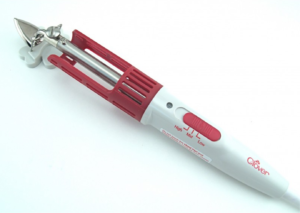 One good thing I noticed right away is that this mini iron seems to be fairly solidly built. This is important for heat-sealing fabric, because you have to press pretty hard to get a proper seal, and if the iron is not built well, it may break. I read one review by someone on Amazon whose Clover broke right away, so maybe they're not all welded properly inside, but this one seems good.
In order to get proper heat transfer from the heating element to the tip of the iron, you need to make sure the screw that holds the tip in place is tight. Because this screw changes temperature dramatically and frequently, it loosens quickly, so begin every session by checking its tightness. The Clover comes with a handy screwdriver for this purpose. (Personally, I would have preferred to have a second ironing tip in the kit instead of a flat-head screw driver, which most people already own.)
After plugging the iron in and turning it on, you need to wait about ten minutes for the iron to heat up fully. You will also have to wait a while if you change the temperature setting.
For sealing the fabrics I sell in the Shop, the "High" and "Mid" temperature settings seem to work best (depending on ambient temperature and other factors). Sometimes the High setting is a bit too hot – yesterday it was perfect, but today the Mid temperature works best. I'm not sure why, but it could be due to the wacky electrical wiring in my old house.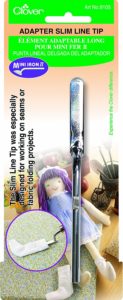 If you buy the optional Slim Line Tip for this iron (which I recommend for some projects), note that the end closer to the handle gets hotter than the forward tip.
I noticed that it's fairly easy to move the temperature setting switch by accident while using the iron, so I've put a piece of tape over it to hold it in place. Problem solved.
The worst feature of this iron is the stand. It collapses too easily and the base is too narrow, so sometimes it tips over. I'm just going to set the Clover stand aside and use the stand that came with my soldering iron instead, but if you don't have one of those, you could easily make a stand out of a beer can. Actually, the way the heat guard is designed, it prevents the tip from touching anything even if you set it down without a stand – a very nice feature.
Bottom line: in spite of a few minor flaws, this is the best iron I have found for anyone who wants to make a DIY Packraft. It's available at low prices on eBay, Amazon, etc., and you can also buy it directly from the manufacturer. Just google it to find the best price in your country. Unless you already have an adjustable-temperature soldering iron you want to modify for heat-sealing your packraft, get a Clover Mini Iron II.

Note that I cannot vouch for the Clover's suitability for heat-sealing fabrics sourced from other suppliers – they may have different activation and melting temperatures than the fabrics offered in the DIY Packraft shop.