Fabrics
The best packraft manufacturers make their packrafts out of polyurethane coated nylon fabric, and that is what DIY Packraft kits are made from too. We use fabrics of several different strengths and weights to make packrafts similar to commercially available models, and also ultralight packrafts that aren't available anywhere else. These fabrics feature a heat-sealable polyurethane coating, called thermoplastic polyurethane, or TPU for short. When TPU bonds to itself, the joint becomes stronger than the fabric, so sewing or gluing would be redundant. Learn more about fabrics here, and see how strong the DIY Packraft fabrics are in the video below. You can also order a fabric sample pack to test them yourself (now with free shipping worldwide).
Tools
The only specialized tool required to make a DIY Packraft is a heat-sealing iron. You can buy the one pictured here for about $25. Learn more here.
Valves
Included in every DIY Packraft kit is a Boston Valve, which is an industry-standard inflation/deflation valve. It is lightweight and incorporates a one-way valve for lossless inflations and a large opening for quick deflations.
Over the course of a day on the water, the air inside your packraft may cool and contract, making your packraft feel softer and less responsive. Adding a one-way top-up valve to your packraft provides a convenient way to add air to your tubes without going ashore.
A small valve is the lightest and most compact way to inflate and deflate your packraft seat and other inflatable accessories.
Learn more about valves here.
Kits
DIY Packraft Kits and Ultralight DIY Packraft Kits include pre-cut fabric panels that fit together with minimal cutting, saving you time and reducing shipping costs by minimizing the packed weight.
DIY Packraft kits and plans are available in different sizes to accommodate different leg lengths. Check the sizing guide here.
Want to learn more? Check out the overview and kit unboxing videos below.
Airtight Zippers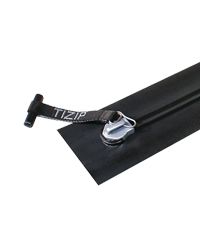 Adding an optional airtight zipper to your packraft allows you to store gear inside the packraft's tubes instead of strapping it to the bow. This makes your gear more secure, improves forward visibility, keeps your gear dry, and improves handling by lowering your packraft's center of gravity.
I offer the extremely robust TIZIP SuperSeal – the same airtight zipper that has been used for years by the best packraft manufacturers. Learn more about the SuperSeal here.
Learn More
If you want to learn more about making your own packraft, browse the How-To menu (above), watch the DIY Packraft videos, and check out the items in the DIY Packraft Shop. Use the search bar (above) to find answers to specific questions, and if you have a question that isn't answered on the site, post a comment on the relevant page, join the DIY Packraft Forum, or send us a message through the Contact page. Thanks!